French President Emmanuel Macron will travel to New Orleans on Dec. 2 as part of his state visit to the US, a trip expected to highlight the historic connection between his country and its former colony while also touching on pressing issues such as climate change.
It will be the first visit to the city by a French president since 1976 and only the third ever. France's consul general in New Orleans, Nathalie Beras, confirmed the visit but could not yet provide further details.
French daily Le Figaro reported that the visit is intended to showcase France's cultural and social imprint in the United States. Macron plans to announce a fund to finance French language education as well as speak about climate issues with Gov. John Bel Edwards, according to Le Figaro.
He also plans to tour the French Quarter and discuss culture and music, the report said.
Spokespeople for Edwards and Mayor LaToya Cantrell did not immediately respond to requests for comment.
Historical influence
It will be a heavily symbolic visit given the historic ties between Louisiana and France. New Orleans was founded in 1718 in the territory claimed by France then sold to the United States in 1803 under the Louisiana Purchase.
The cultural amalgam that makes up New Orleans includes a heavy dose of French influence — not to mention the Creole and Cajun communities in other regions of Louisiana.
Macron has expressed his deep interest in promoting the French language globally and France has long supported efforts to preserve the use of French dialects in Louisiana. The state joined the international organization of French-speaking governments, the Organization Internationale de la Francophonie, as an observer in 2018.
Local officials had hoped for a French presidential visit when New Orleans celebrated its 300-year anniversary in 2018, but Macron was unable to schedule a detour from his state visit to Washington during the administration of former President Donald Trump. Louisiana officials, including Edwards and US Sens. Bill Cassidy and John Kennedy, instead attended the state dinner in Washington, which included a jambalaya dish — although Kennedy described it as "Washington jambalaya."
Earlier visits
Valery Giscard d'Estaing was the last French president to travel to Louisiana nearly a half-century ago, visiting Lafayette and New Orleans as part of another state visit. That visit saw Giscard d'Estaing speak at Lafayette's Blackham Coliseum and at a luncheon at the Superdome, which had opened less than a year earlier.
French President Charles de Gaulle also visited New Orleans in 1960.
Other recent high-profile international visitors to New Orleans include Mexican President Felipe Calderon and Canadian Prime Minister Stephen Harper for talks in 2008; the Dalai Lama in 2013; and the king and queen of Spain in 2018.
Next week's trip will be part of Macron's state visit from Nov. 30-Dec. 2. It will mark the first state visit of President Joe Biden's tenure.
Macron's discussions in Washington will undoubtedly be consumed by a wide array of global issues, ranging from Russia's invasion of Ukraine to trade and energy. He will then be welcomed for a state dinner at the White House on Thursday — the night before his trip to New Orleans.
The New Orleans leg will in part provide Macron with an opportunity to pull back from tense global issues and highlight the lasting influence of his country on Louisiana. But it may also serve as an appropriate backdrop for discussion of environmental issues, one of Macron's major points of focus, particularly following this month's COP27 climate summit in Egypt.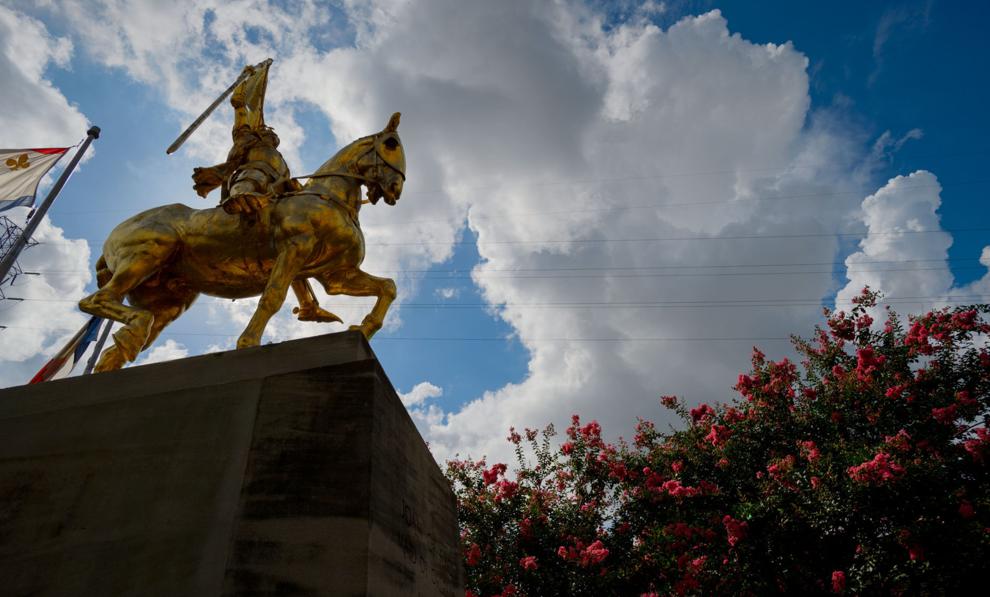 Seen by some experts as the US state most threatened by climate change, Louisiana will have to battle a litany of consequences of a warming planet in the years ahead. Perhaps most pressing is sea-level rise, one of a number of factors wiping out Louisiana's coast.
At the same time, energy discussions may also involve Louisiana. With the supply of Russian natural gas cut due to its invasion of Ukraine, European nations have been in search of alternative sources, including liquefied natural gas, or LNG, from Louisiana. Southwest Louisiana has emerged as a hub for the production of LNG.
While promoted by the state and industry officials as cleaner than coal, natural gas is nevertheless a fossil fuel that emits significant amounts of greenhouse gases, which drive climate change. Environmentalists oppose its expanded use for that reason and say nations should focus more on developing renewable energy instead.
France has in some ways become synonymous with the worldwide effort to combat global warming. The Paris Agreement treaty of 2015 aims to limit global warming to 1.5 degrees Celsius compared to pre-industrial levels.
Trump pulled out of the Paris agreement. Biden recommitted the US to the deal on his first day in office.
Staff writer Matt Sledge contributed to this report.
Editor's Note: This story was updated on Nov. 25 with official confirmation, further details and background on the visit.